fmProducts , SelCategoryProductsDlg - Products and Attributes Sections.
Store Manager makes Zen Cart Product management very simple. You have all the necessary tools for adding products and you have no limits of their number, number of their categories and subcategories.
Store Manager for Zen Cart allows you to specify products names, add new products, add new product images, remove unwanted ones and adjust the products Attributes. You can preview and manage your all the products' information at the Products section (1), change images at Product images section (2) and cope with selected product attributes at the Product attributes section (3).
The following topics of Zen Cart product management are covered:
Products Section
To perform the basic operations you can use Products toolbar (1) or context menu (2).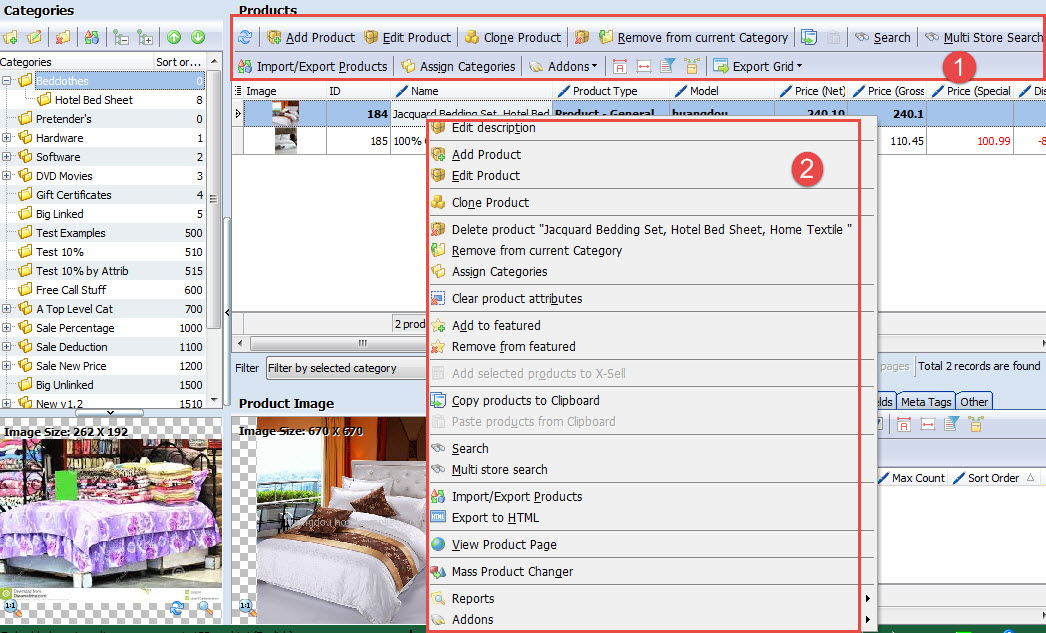 From the toolbar and the context menu, you can perform the following basic operations: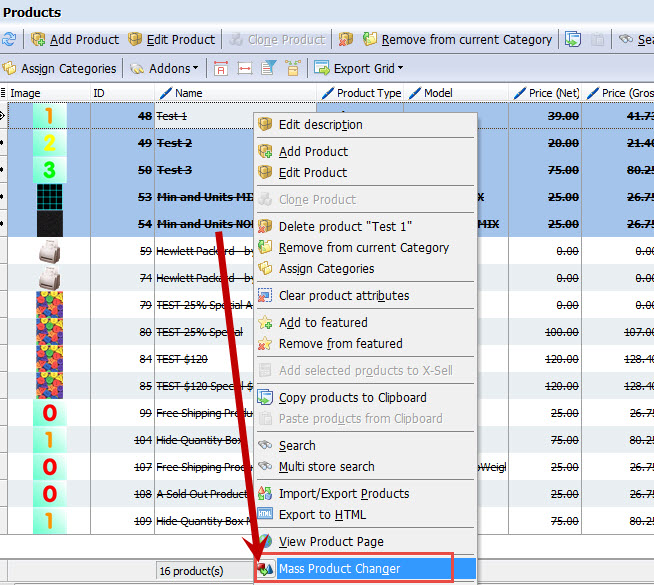 7. 

To 
Adjust columns width
 use 

 icons.
    8. 

You can 
Export products
 to EXCEL or HTML and view product Page using corresponding options.
9. To associate the appropriate products with the particular categories use the option for assignment in the top toolbar: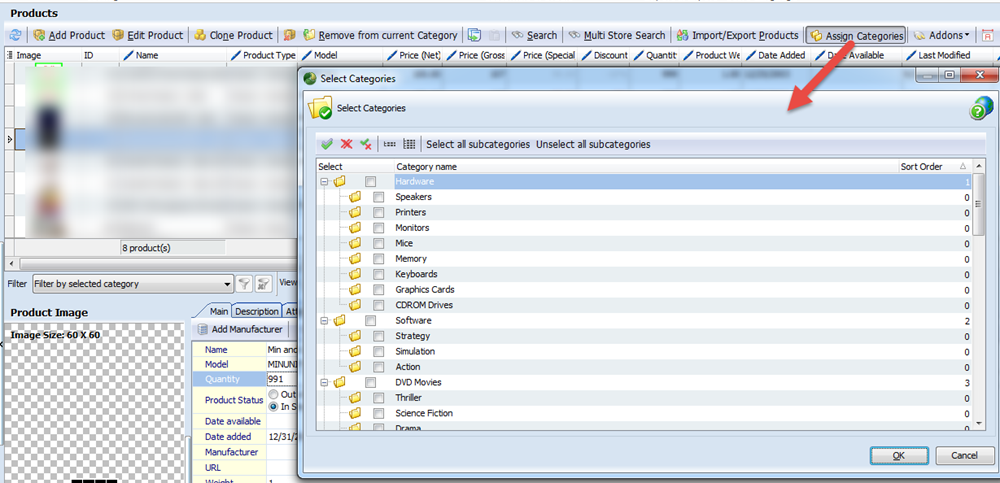 Attributes tab in the lower grid of the Products page displays the attribute products list and allows to add the new attributes positions or edit the selected ones.
Use the toolbar to perform the following actions :
- add new attribute option
Fill the form below :
Specify the option's name and value - use the
'Ctrl+Enter
' keyboard shortcut to select the one position you need from the existing list or the 'Insert' key to indicate your own name and value;
- specify the price, assign the image (locally or from external source) and other information.
Press
'Add new
' to create the new attribute position and stay in the form or 'OK' to add the new one and exit from the edit form.
- edit selected attribute position
Change the data in the edit form, which appears and press 'OK' to apply your entries.
To be able to modify or change the attributes with the assigned options at once - use the
Attribute Editor
- you will see the extended edit form where by scrolling up and down the list you have an opportunity to add and
change the additional details to the specified attribute positions.
Assign the image from the local media gallery or from the external source by using the URL path in the appropriate column of the particular edit form.
- to copy/paste attribute and its data use the following options from the toolbar.
- to expand/collapse columns width press the option in the top:
- for automatic adjustment columns width choose the corresponding button in the attributes toolbar:
- if the 'Autoexpand' option is checked - the columns in the Attributes section will be extended automatically: 
- to adjust columns width use the following button:
For placement attributes data separately in a file, use the
Export Grid
option and choose the appropriate file's format from a drop-down list
: